Cecil F. Gilkerson Community Activities Center
Last Updated: December 10, 2020
The Community Activities Center, Simms Center, and Price Rotary Senior Center are all currently closed to the public as well (with exception to fitness room reservations). Open green spaces and walking trails where patrons can practice safe social distancing methods are still open at this time.  Visit the City's Coronavirus COVID-19 page [1] for additional information on the City's approach.
305 South Dogwood Drive 
Harrisonburg, VA 22801
Phone:  540-433-2474
Update July 31, 2020 - The Cecil F. Gilkerson Community Activities Center fitness center will officially reopen by reservation only, for members only, on August 10, but reservations can be requested starting August 3 at 8:00am. Call 540-433-2474 for membership information and to make a reservation. 
Fitness Center Processes: (Beginning August 10, 2020)
Hours of Operation: 7:00am - 7:00pm, Monday - Friday
Building Procedures:

Face masks required to enter the building, and not required during workout; 
Hand sanitizer stations will be placed throughout the building; 
Entrance doors will be propped upon entry;

Reservations/Memberships:

Open to members only (5 members per session); 45-minute sessions (reservations may be made up to 2 weeks in advance);
Call 540-433-2474 to make a reservation (no in-person reservations allowed);
Memberships available to purchase via phone.

Equipment:

Water fountains will be closed and not available so please bring your own water bottle;
Fitness equipment is spaced 10 feet apart;
Towel and spray bottle will be provided upon check-in and equipment must be cleaned by member after each use;
Towel and spray bottle will be turned back in after your workout in a designated area near the exit and will be cleaned/disinfected after each use;
Please maintain 6 feet distance from other members.

Entrance/Exit:

There will be one way into the fitness room and one way out;
Floor stickers will be placed 6 feet apart upon check-in;
Entrance to fitness room will be on the pool side of the building and the exit will be toward the opposite end of the building.

Restrooms: Restrooms will be available only after your 45-minute session on your way out of the building.
Cleaning:

Members will be asked to clean equipment after each use;
Staff will be cleaning equipment after each 45-minute session;
A deeper clean will take place during designated cleaning blocks during morning and afternoon.
Cecil F. Gilkerson Community Activities Center 
The Cecil F. Gilkerson Community Activities Center (C.A.C.) has a gymnasium, three racquetball courts, an exercise/weight room, three large classrooms.  It houses the Athletics Office [2] and Youth Services area. The C.A.C. adjoins Westover Pool [3].
The Cecil F. Gilkerson Community Activities Center offers childcare throughout the year, visit the childcare [4] page for additional details. 
Facility Holiday and Event Closings - Please call 540-433-2474 for specific holiday and event closing information.
C.A.C. Hours of Operations
Monday-Friday: 5:30am-9:00pm (Facility will close at 7:00pm on Fridays from Memorial Day to Labor Day)
Saturday: 9:00am-5:00pm
Sunday: 1:00pm-6:00pm (Facility will be closed on Sundays from Memorial Day to Labor Day)
[36KB] Center Gym Schedules [5] (January 6-March 31)
*Note tabs at the bottom of the page for individual days of the week.
C.A.C. Guest Fees 
Adult - $3 Resident | $6 Non Resident
Youth (Ages 3-17) - $2

 Resident | $4 Non Resident

Infant (Ages 0-2) - Free
C.A.C. Membership Fees
View: Value Added Fitness Membership Pricing Sheet [6]

[993KB]
Room Descriptions and Rental Fees - Please call 540-433-2474 for room and rental information.

[159KB] Facility Use Permit Application [7]

[262KB] Facility Use Policies [8]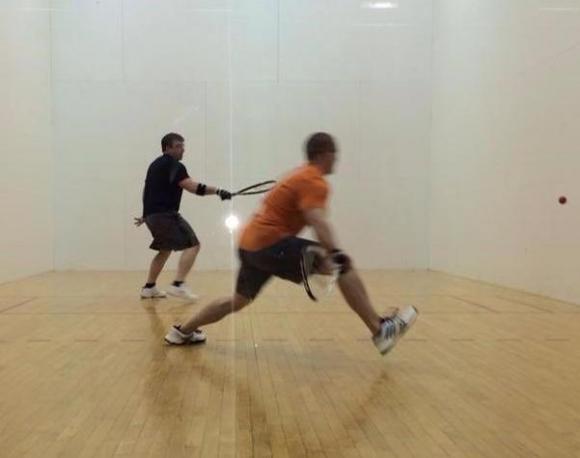 Racquetball Courts
Enjoy the use of our three racquetball courts by calling 540-433-2474.  Players without reservations may obtain available courts on a walk-in basis.
Two courts are equipped for Wallyball play.
---
Parent-Tot Playtime
Join us Tuesday mornings from 10:00am-12:00pm, as we will hold our Parent-Tot Playtime in our gymnasium!  Mats, tricycles, ball, obstacles, etc. will give toddlers and their parents the chance for some mid-day open play.  If you are not a member of the Community Activities Center, there is a $1 entry fee.  This program is open to ages 0-5, and will meet October 1-December 17, and January 7-April 28. 
*Program does not meet on days that Harrisonburg City Schools are out.